10 Global Cities Win Prestigious C40 Cities Awards
Press release
4. May 2015
During COP21, cities recognized for climate leadership at 3rd Annual C40 Cities Awards in Paris
test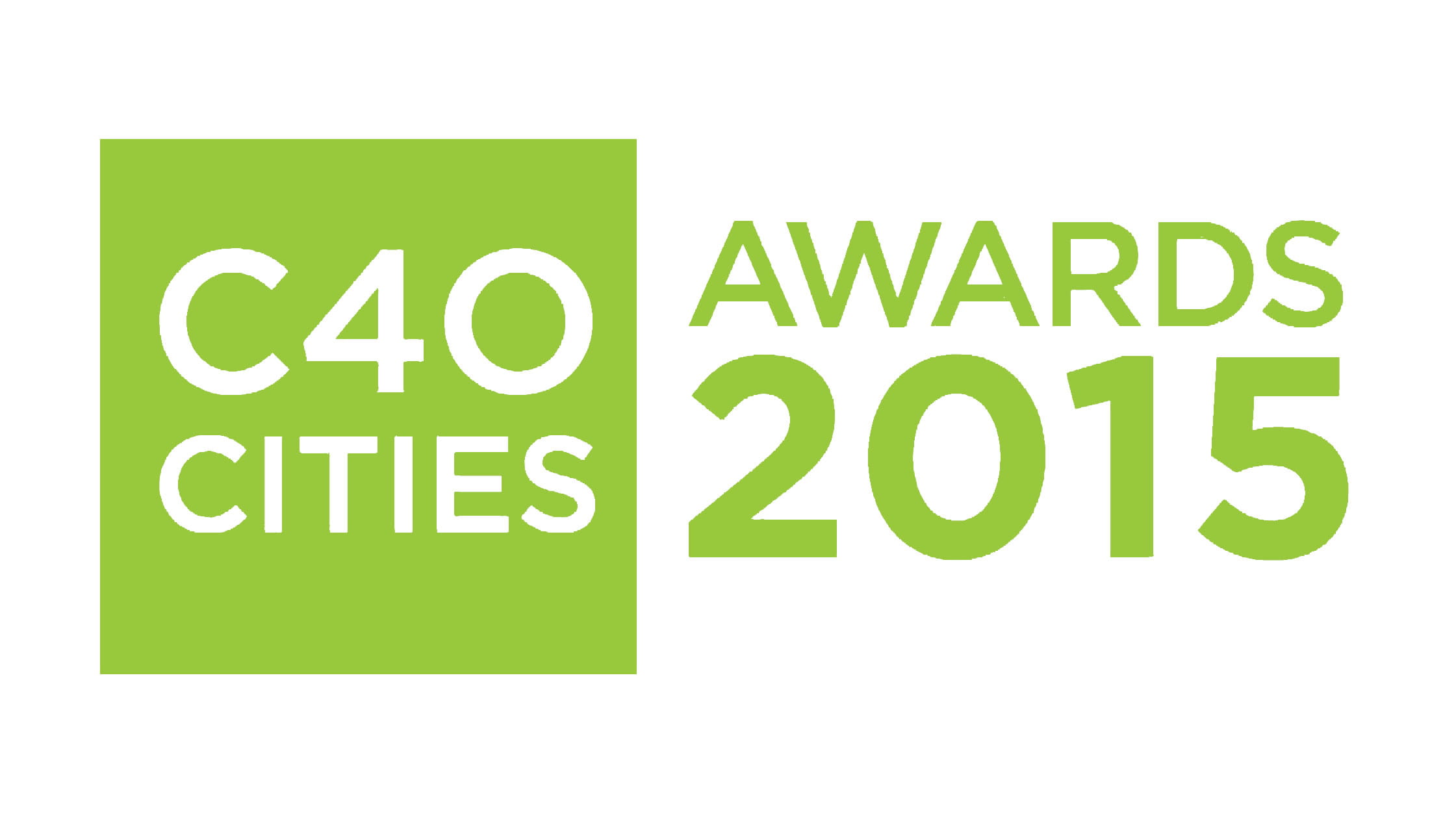 Paris – Today, the C40 Cities Climate Leadership Group (C40) announced the winners of the third-annual C40 Cities Awards, recognizing ten global cities for their leadership in tackling climate change across key sectors. The Awards ceremony was held on Thursday night in Paris during the COP21 climate negotiations. In a gesture of solidarity and apprecation, C40 Chair, Rio de Janeiro Mayor Eduardo Paes presented Mayor Hidalgo of Paris an inaugural Special C40 Award for Resilience and Global Leadership, in recognition of her city's extraordinary resilience, pushing ahead with an historic mobilization of city leaders on climate change, despite the backdrop of savage terrorist attacks.
Winning cities, including Boston, Johannesburg, Rotterdam and Nanjing each demonstrated exceptional innovation and ambition to build low carbon and climate resilient urban communities. Winners were recognised for a diverse set of world-class policies, projects or programs, including Vancouver's Greenest City Action Plan, which sets a roadmap for it to become the greenest city in the world by 2020, and Wuhan's ecological restoration of one of the city's largest landfill sites.
Felipe Calderón, former President of Mexico and Chair of the Global Commission on the Economy and Climate serves as Chair of the C40 Cities Awards Jury Panel, who selected the winners from among 33 finalists announced in October, 2015.
"As leaders from around the world meet in Paris to agree binding emission targets, the efforts of these 10 Award-winning cities remind us that innovation drives results, and concrete solutions and actions – that improve the health, well-being and economic opportunities of urban citizens -- can be implemented right now. I thank our esteemed Jury Panel and commend my fellow mayors for their leadership and commitment to tackle climate change. By taking local action, we are having a global impact," said C40 Chair, Mayor of Rio de Janeiro Eduardo Paes.
This year's winners in the ten award categories are:
Boston

(Smart Cities & Smart Community Engagement)

Cape Town

(Adaptation Implementation)

Johannesburg

(Finance & Economic Development)

Nanjing

(Transportation)

New York

(Building Energy Efficiency)

Rotterdam

(Adaptation Planning & Assessment)

Stockholm

(Sustainable Communities)

Vancouver

(Carbon Measurement & Planning)

Washington, DC

(Green Energy)

Wuhan

(Solid Waste)
"Just as the global environmental leaders gather in Paris today, BYD is determined to actively participate to promote the sustainable development of the world. The technological innovation resulting from BYD's 16,000 engineers and researchers can be seen in our public transportation solutions, including pure electric buses and taxis, now found in more than 160 cities globally," said Chuanfu Wang, Chairman and President of BYD Co. Ltd. "BYD sends our heartfelt thanks to everyone who has contributed to global sustainable development, especially the 10 C40 Awards winning cities – each city has set a fine example for others to follow. BYD would be proud to work with these cities to apply more advanced technologies and solutions to make the world more green."
C40 received more than 200 applications from 94 cities for the 2015 Awards; these were reviewed in partnership with sustainability think tank and consultancy Sustainia. Of the ten awards categories, four are open to C40 Cities and those that are part of the Compact of Mayors, a global coalition of mayors and city officials committed to reduce local greenhouse gas emissions, enhance resilience to climate change and track their progress transparently.
C40 Cities Awards winners represent leading projects in urban sustainability, but city climate action is accelerating around the world – according to recent C40 research, C40 cities have taken 10,000 city climate actions since the last major COP in Copenhagen.
The 3rd Annual C40 Cities Awards was made possible thanks to support from Bloomberg Philanthropies and global electric vehicle leader BYD Company Ltd.

About the C40 Cities Climate Leadership Group (C40)
The C40 Cities Climate Leadership Group, now in its 10th year, connects more than 80 of the world's greatest cities, representing 600+ million people and one quarter of the global economy. Created and led by cities, C40 is focused on tackling climate change and driving urban action that reduces greenhouse gas emissions and climate risks, while increasing the health, wellbeing and economic opportunities of urban citizens. The current chair of the C40 is Rio de Janeiro Mayor Eduardo Paes; three-term Mayor of New York City Michael R. Bloomberg serves as President of the Board. C40's work is made possible by our three strategic funders: Bloomberg Philanthropies, Children's Investment Fund Foundation (CIFF), and Realdania. To learn more about the work of C40 and our cities, please visit www.c40.org, follow us on Twitter @c40cities and like us on Facebook at http://www.facebook.com/C40Cities.
For more information on the Awards and the projects of the Winning cities, go to: http://www.c40.org/awards
About the C40 Cities Awards Jury Panel:
Felipe Calderón – Former President of Mexico, Chair, Global Commission on the Economy and Climate, Jury Chair, C40 Cities Awards 2015
Abha Joshi-Ghani – Director, Leadership, Learning and Innovation, World Bank Institute;
Professor Edgar Pieterse - South African Research Chair in Urban Policy & Director, African Centre for Cities;
Dr. Fauzi Bowo - Former Governor of Jakarta, Indonesian Ambassador to Germany;
Ritt Bjerregaard - Former Lord Mayor of Copenhagen;
Stella Li – CEO, BYD Motors Inc.
Jie Tang - Former Vice-Mayor of Shenzhen;
David Miller – President & CEO, WWF Canada, Former Mayor of Toronto and Former C40 Chair C40;
Adam Freed – Sustainability Principal, Bloomberg Associates, and former Deputy Director of the NYC long-term Planning and Sustainability Directorate.

Boston

is the winning city in the Smart Cities & Smart Community Engagement category for Greenovate Boston— a city brand that unifies the community and brings attention to the overall climate and sustainability goals that Boston has set. Greenovate Boston combines the city's programmes in energy, transportation, air pollution, food and solid waste to establish a broad platform for communication, community engagement and recognition of achievement.

Cape Town

- Water Conservation and Demand Management (WCWDM) Programme is the winner in the Adaptation Implementation category for committing itself to a comprehensive programme of water conservation and water demand management. The city's WCWDM Programme is an innovative multi-pronged initiative that focuses on both technical and behavioural aspects of saving water while bringing public awareness to the issue of adapting to the effects of climate change.

Johannesburg

is the winner in the Finance & Economic Development category for the "Green Bond"— an innovative financial instrument committing the city to future emissions reductions. It is based on a detailed climate change vulnerability assessment and helps the city to understand its climate risk. The program supported the city by creating funding opportunities to assist the city in preparing and implementing integrated inclusive and long-term mitigation strategies designed to reduce vulnerability.

Nanjing

's New Energy Vehicle Promotion is the winner in Transportation category; a structure set up to define detailed rules for subsidies and electricity prices for EV charging and to promote the installation of charging facilities. As of now, 4,332 units of NEVs have been deployed in Nanjing, including 1,208 transit buses, 940 taxis, 1,311 inner-city commuting cars, 17 utility company cars, 647 private new energy cars, and 208 New Energy special cars.

New York- One City: Built to Last, and the Buildings Technical Working Group is the winner in the Building Energy Efficiency category. One City: Built to Last (One City) is a 10-year plan to improve the energy efficiency of NYC's one million buildings through a combination of public investments in City-owned buildings and new programs to spur private-sector action.

Rotterdam

's Adaption Strategy (RAS) is the winning city in the Adaptation Planning & Assessment category for engaging in extensive research and launching numerous no-regrets measures. RAS aims to secure and maintain a robust city by incorporating adaptation measures in urban development, renewal and maintenance activities.

Stockholm

is the winner in the Sustainable Communities category for Stockholm Royal Seaport (SRS), a major urban development which tests how to incorporate available best practices and become a model for sustainable urban development. When finished in 2030, SRS will have a total of 12,000 homes and 35,000 workspaces that will feature characteristics and density of an inner-city neighbourhood.

Vancouver

's Greenest City Action Plan (GCAP) is the winner in the Carbon Measurement & Planning category for setting a bold vision in becoming the greenest city in the world by 2020. GCAP is made up of 10 distinct goal areas—covering jobs, carbon, the built environment, the natural environment and food—each with specific 2020 targets to address getting carbon and waste to zero and building healthy ecosystems.

Washington

, DC's Wind Power Purchase Agreement (PPA) is the winning city in the Green Energy category for entering into the largest wind power purchasing agreement of its kind. The 20-year PPA with Iberdrola Renewables will supply approximately 30 percent of the District government's electricity from a 46 megawatt wind farm.

Wuhan

's Ecological Restoration Project of Jinkou Landfill is the winning project in the Solid Waste category for restoring the Jinkou landfill in an ecological manner to redevelop the area. The comprehensive project introduced different plant varieties, promoted the continuity of the fundamental ecological system, improved the foundation soil quality, purified the remaining soil and restored green land.

Realdania is a modern philanthropic association that works to create quality of life and benefit the common good by improving the built environment: cities, buildings and the built heritage. Realdania is currently involved in more than 700 projects with a total project value of approximately EUR 2.7 billion. Of this amount, Realdania's grants account for approximately EUR 1.5 billion, while the rest is financed by other project partners.

The Children's Investment Fund Foundation (CIFF) is an independent, philanthropic organisation. Our staff and Trustees combine the best of business and the best of development, bringing a wealth of experience from both sectors to CIFF's work. We aim to demonstrably improve the lives of children in developing countries by achieving large - scale, sustainable impact. We believe that every child deserves to survive, thrive and mature into adulthood in a supportive and safe environment. However, climate change disproportionately affects children living in poverty in developing countries. A key focus for CIFF is climate-smart urbanisation. To learn more about the work of CIFF on climate change please visit www.ciff.org.

Bloomberg Philanthropies¹ mission is to ensure better, longer lives for the greatest number of people. The organization focuses on five key areas for creating lasting change: Public Health, Environment, Education, Government Innovation and the Arts. Bloomberg Philanthropies encompasses all of Michael R. Bloomberg¹s charitable activities, including His foundation and his personal giving.

For more information, please visit www.bloomberg.org